Description of the route
The classic: Caimari – Coll de Sa Bataia
Coll de Sa Bataia is probably the most well known and most riden mountain of cyclist's island that is Mallorca. Amongst insiders it is also called 'petrol station'.
The adventure Bergzeithelden starts at the exit of the village Caimari, which is commonly known by its annual olive festival called 'die Fira de Olivas'. The ascent to Coll de Sa Bataia consists of a run of approximately 8km(5miles) passing through a high valley with mostly dense forest, including picturesque crag trenches and terrassed olive groves. You will be impressed by the play of colours caused by the sunlight at any time of the day.
Having arrived at the plateau of Sa Bataia you will soon have forgotten the exertions of the climb when sitting on the sunny terrace of the restaurant bearing the same name. The thriving atmosphere here will provide ample opportunities for socialising.
Please note:
• First start time at 8.30 am
• Last time to finish at 5.00 pm

Please pay attention to the acoustic signals at the start and the finish points.
Please consider your safety together with your sporting ambitions
On that note we wish you success as well as lots of fun. Soak up the sun and enjoy your ride!
START :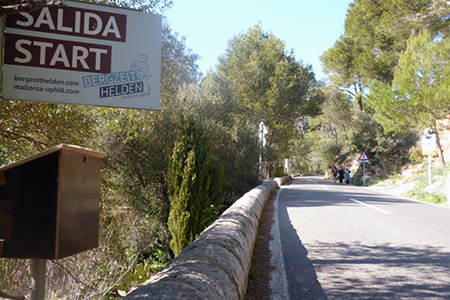 FINISH :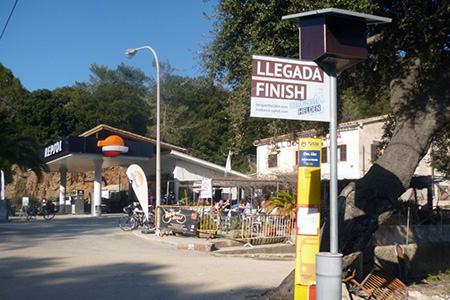 Key facts
length: 7.9km
climb: 400m
average elevation: 5.2%
maximal elevation: 8%
altitude: 180m-579m
beginner: 30-50min
amateur: 22-30min
professional: <22min
Getting there…
from the South (Palma) via Biniamar – Mancor de la Vall – Caimari
from the East (centre of the island) via– Inca – Selva – Caimari
from the North (Alcudia / Pollenca) via – Moscari – Binibona – Caimari
Partner